It's time we address the guerrilla in the room…
Here at Bluman we are no strangers to Guerrilla Marketing. We have projected a fox onto Big Ben, a Batman signal onto Battersea Park power station, the Green Day logo on St Pauls and turned Marble Arch into our very own Space Invaders arcade game, to name just a few….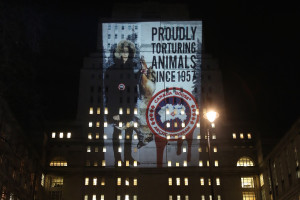 The term 'guerrilla marketing' was inspired by guerrilla warfare, which is a form of 'irregular warfare', often relating to the small tactic strategies used by armed civilians. Armed with our client brief, we produce ambushes and elements of surprise with our guerrilla projections.
Jay Conrad Levinson, who coined the term, defines it as such: '…. achieving conventional goals, such as profits and joy, with unconventional methods, such as investing energy instead of money.'
The unconventional methods are what we enjoy.  Because the method is fun, it doesn't feel like conventional advertising, and the public respond strongly to it.  We live in an age where the creation of shareable content is imperative to digital marketing, making public engagement and the subsequent sharing of content on social media so important.  It extends the reach of the campaign way beyond those who were physically witness to it.
Take our projection of a Stormtrooper on Battersea Power Station for example.  While it was commissioned by Greenpeace in opposition to Volkswagen's environmental initiatives,  the sight of a huge Stormtrooper across the river engaged a much larger audience / demographic than those who were originally aware of Volkswagen's indiscretions.  Point made and interest piqued.
Much of the power of projections is in the medium itself. Unlike a banner, a projection can move, change, and even be interactive.  Projections also help us 'take the power back' – or at least a bit of it.  The buildings of the powerful can feel very big and our protest signs so small.  But when a huge 'Say No to Austerity' sign is projected onto the houses of parliament it begins to level the playing field.  Our small voices no longer feel so quiet.