WHAT IS PROJECTION MAPPING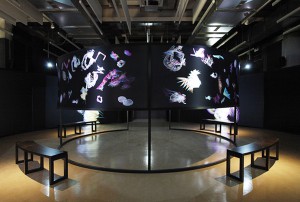 The origins for projection mapping are somewhat curious as it used to go by the name of Spatial Augmented Reality. According to Wired, the first known projection onto non-flat surfaces was in 1969, for the opening of Disney's Haunted Mansion ride.
In the last 5 years it has become very popular, however we've been doing it for a long time, long before it became an industry buzzword.
As far as we are concerned it simply means fitting a piece of content, be it a still image or moving image, to a particular shaped object or building.
Recently, there have been amazing advances in technology making projection mapping a more powerful medium. These advances fall into 3 key areas –
Video projection – the size of projectors has decreased, power consumption has decreased, and reliability and light output have increased.
Media Servers – have become ever more powerful and complicated.
Motion Graphics – software has become ever more powerful and accessible.
When projection mapping first appeared in its modern guise about 5 years ago, people were overawed and fascinated by the amazing effects that can be achieved using the technique.
What makes projection mapping so effective, is that is provides a more immersive experience. You can use a building or surface as a blank canvas to create something completely new, so you're not restricted to projection surfaces.
Nowadays, projection mapping is more common, many have experienced the generic tricks that can be achieved so it's more challenging to create a show that really stands out. The key to engagement with the audience is to understand the brand/client/band that you're working with and use the techniques available to produce something that connects with them.
Put simply, it involves creating digital content that is designed to exactly match an existing real world environment, be it a building, a set, a product or anything else you can imagine. To do this you need to have a very accurate three-dimensional model of the building/set/item and from this a virtual environment will be constructed within the 2D and 3D motion graphics packages that are being used to create the motion graphics/CGI/Animations. There are many different workflows for the combination of content, media servers and projection to achieve the same results.
Our approach at Bluman Associates is to treat each project on its own merits, and only once we have established the criteria of the project do we decide what our technical approach will be.
There are times when a simplified approach to a project is most appropriate because the increased workflow and budget will put it out of the clients reach. At this point we go back to the first principles of projection mapping, which we used before modern technology allowed greater access to the medium. For example, when we mapped the front of the Natural History Museum a few years ago, there wasn't a 3D model in sight. The budget and very tight time frame meant that we had to do a lens trace and work in 2D, which proved to be very effective indeed.
The biggest challenge is educating clients to an unconventional workflow. There is a cyclical, or chicken and egg process to developing a great projection mapped project. This is because the creative and technical processes are so interlinked, it's essential that all departments involved collaborate very effectively. We have to work with content designers and animators to technically author content. There are parameters and restrictions that content must comply with. That process is generally quite complicated, as you often have to re-create content that would usually be projected onto a flat surface – educating people on this process can be quite challenging, but working together, anything is possible.
Environmental factors are also a key challenge. Often shows are outdoors, and there are always issues with weather, no matter how hard you try to mitigate it.
I think that projection mapping is becoming a technology that is all about integration in to events and experiences as a whole. Good mapping should almost be imperceptible; it should form a seamless part of the show so you're not even aware that it is happening. We believe this is how projection mapping will continue to develop – to become more immersive, integrated and unable to be detected.
Creating an impactful experience is all about understanding the message, tone and persona the brand is trying to convey – projection mapping is a technology that allows us to communicate visually in a way we weren't able to before.
There is also an opportunity for it to evolve in the film industry. The technology of mapping can also be integrated with the technologies of postproduction and most importantly, motion control camera systems and real-time content generation. What this means is that the content will change in real time in relation to the position of the camera, in a three dimensional space.
With a suitable blank canvas and the right technology – there is no limit to the content that can be created.